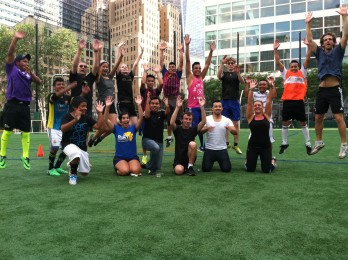 The Safe Passage Project has been working tirelessly over the past few months to assist the influx of unaccompanied children, some as young as 4 years old, appearing in immigration court without attorneys.   Together with a coalition of other New York providers, Safe Passage has staffed the "surge dockets", the federal government's expedited deportation proceedings of children, to assist as "friends of the court" and to evaluate childrens' cases for placement with pro bono attorneys. About 4,750 children settled with families in New York State in the first seven months of this year alone.  The numbers are even greater in Long Island and upstate. By our assessment, over 80% of these children qualify for one or more forms of legal status in this country.  However, without attorneys, many of these children may not be able to gain the status to which they are entitled.  To continue to do this important work, and expand our services, we need your help!
 GIVE A LITTLE, HELP A LOT! HELP US RAISE $5,000 BY THE END OF OCTOBER AND IT WILL BE MATCHED!  
Any small donation you make before October 31, 2014 will be matched up to $5,000! Every little bit helps – even just $25! Donate whatever you are able to, and it will be matched.
  – A donation of $25 pays for a child's round-trip transportation costs to see his attorney and attend their court hearing.
 – A donation of $75 pays for the training of one pro bono attorney to prepare her to take on a child's case.
 – Every dollar goes to something that will make an immediate impact!
Here is how to make a donation:
1) On our website www.safepassageproject.org at the link here.
2) By check: Check payable to Safe Passage Project Corporation, mailed to 185 West Broadway, New York, NY 10013.  Please Note "October Matching Campaign" in the memo so we know it for this matching campaign.