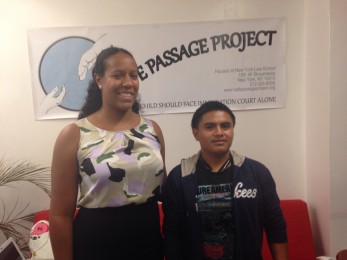 By Ke Wei
Stephanie Tennant joined Safe Passage Project as a pro bono attorney in November of 2012, after an attorney with whom she works with at Linklaters LLP, encouraged her to attend a Safe Passage Project lunch presentation. Since that time Stephanie has been working endlessly for one young man –ultimately resulting in securing Special Immigrant Juvenile Status (SIJS) and a "green card" for him. While the immigration process for this young client was long and at times, frustrating, Stephanie's passion for pro bono service, hard work, and perseverance ultimately led to a successful result for her client.
One of the difficult parts of her young client's case was that the adult in his life reneged on his responsibility to become the young client's guardian. However, Stephanie's young client's brother had just turned 21 and unfortunately aged out of eligibility for SIJS. Stephanie took this unfortunate turn of events and made the best out of it by asking whether the older brother would become the legal guardian of her younger client. With this, she established and supported all of the elements required for the young client's immigration case. Now that he has become a lawful permanent resident, Stephanie's young client now wishes to complete high school, attend medical school, and work in pediatrics to help as many people as possible.
Stephanie is not new to fighting for people's rights. In fact, prior to making a world of difference for her young client, Stephanie was making a difference all over the world. She is a first generation American and her family keeps close ties with relatives in El Salvador. Stephanie returned there often to visit relatives with her family. When she was in college at UCLA, she continued to travel to other countries, but this time also to work for human rights. She travelled to Brazil for a year-long study abroad program, where she further developed her passion for promoting human rights and volunteered in several community projects. She also studied abroad in Ghana where she was inspired to go to law school after working with a law professor on a research project related to human rights and education. At Stanford Law School, Stephanie continued her focus and worked in several human rights clinics, including in South Africa where she worked on projects related to land rights in post-apartheid society. Some of her clinical work even allowed her to work with clients from her family's native El Salvador, where she worked on an asylum case. Currently at Linklaters, she is an associate in the Latin American finance practice and continues to travel internationally for work.
Stephanie cares a great deal about others, and has a natural disposition towards pro bono work. She finds it invigorating that as a lawyer, you have the power to change one's life for the better. It is clear that she intends to yield that power often, and we at Safe Passage hope to see her exercise that power with us for years to come. Congratulations to Stephanie Tennant for being successful on her very first case with Safe Passage Project and helping to make a true difference in the life of her young client.