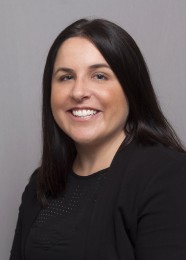 Margaret (Meg) Thering is an associate at Wilson Sonsini Goodrich & Rosati in Palo Alto, California, where her practice focuses on employment law, representing employers. She has also devoted part of her practice to working on pro bono cases with Safe Passage Project, where she represented unaccompanied minors that recently arrived to the U.S. in both immigration and family courts. We are excited to recognize Meg for all of the work that she has done with her two Safe Passage Project clients and for the successful outcomes in both of their cases.
Meg has had a desire to help for a long time. In high school and college, she volunteered with the Northern Chautauqua Canine Rescue. She still supports the organization and has sponsored dogs in the past (and adopted her dog from the rescue). While in law school at Columbia University, she was a skating instructor for Figure Skating in Harlem, and she did an externship at Neighborhood Defender Service of Harlem.
While living in New York, Meg learned about the increase of unaccompanied minors fleeing to the U.S. after reading about it in the New York Times in the summer of 2014, which led her to explore ways she could help these children. After learning as much as she could about the situation in Central America, Meg was directed to Safe Passage Project by one of her friends.  Shortly after attending a training session at Safe Passage, Meg then signed up to take on pro bono cases with two of our clients.
There were many twists and turns throughout the cases, both legal and otherwise. Both of Meg's cases started as SIJS cases, but, unexpectedly, one of them became a T visa case, which is a type of visa for victims of human trafficking . As she gained her client's trust she learned that the young woman was not in a safe environment. Working with the Safe Passage Project mentor attorneys the strategy shifted quickly to protect the child. Despite the changing nature of the cases, Meg stuck by her clients and helped them through every challenge until ultimately achieving successful outcomes for both kids.
She still stays in touch with her clients and wants to help them achieve their own personal and educational goals (as well as their legal goals). She has even taken some out in Manhattan for fun sightseeing and performances (and she has attended a number of Safe Passage soccer games and other events).
Meg Thering is continuing to represent minors in immigration and family courts in California, where she has taken on a case with Community Legal Services of East Palo Alto (www.clsepa.org). She is dusting off her Spanish skills and taking online classes to be able to speak to her clients fluently. She is extremely grateful for all of the language and legal help she received from Safe Passage attorneys and volunteers (as well as from the other attorneys, secretaries, and paralegals she works with).
Meg, we are so thankful for the work you've done with us. We will miss working with you here in NYC, but are equally excited for the great work you will do in Palo Alto. Congratulations on winning both of your cases and for being our Featured Attorney of the Week.